Reports for law firms, accounting firms and other professional firms for employment decisions from entry-level to partner to executive level, with specific research strategies designed to allow the particular client to assess financial and reputational risks, and/or establish regulatory compliance related to hiring, promotions, retentions, transfers, lateral hires, independent contractor assignments, specialist engagements and volunteers.
The Scherzer Difference
Scherzer International (SI) has been providing specialized background screening reports since 1993. Our global clients include commercial and investment banks, private equity funds, and many of the largest law and public accounting firms in the world. With a distinct portfolio of scalable, purpose-specific reports for business transaction due diligence, client acceptance or continuation, employment and regulatory compliance, our services have proven essential for informed decisions and sustainable risk-management.
Scherzer International's core philosophy is to deliver an outstanding report and client experience to every client we partner with. We distinguish ourselves as an industry leader through the following:
Individualized progress updates and alerts of noteworthy information
Single point of contact
Robust FCRA compliance guidance
Easy to read reports with executive summaries
Performing a background check as part of the hiring process, promotion, or retention in today's world is essential.  Stakeholders expect it. Regulators mandate it.                                                                   
For many companies, once an offer of employment has been extended, it is common practice to check the applicant's background. Depending on the risk level of the position and its requirements, background checks can range from reference calls done internally, to using a consumer reporting agency ("CRA") to perform comprehensive searches to determine the existence of potentially negative information, such as criminal records, civil litigation, bankruptcy filings, tax liens, judgments, regulatory actions, driving violations, credit problems, and adverse media publicity, and to verify academic, licensing, employment and other professional qualifications and claims.
A thorough background check is a sound investment. Employers never want to say "we should have known," as an uninformed decision can result in significant financial losses and quickly tarnish an employer's reputation.
Negligent Hiring and Negligent Retention Liabilities
The law is clear: an employer who hires or retains a dangerous or incompetent employee can be held liable for that employee's wrongful acts, if committed in the course and scope of their employment. The theories of negligent hiring and retention extend even further–-someone who is injured by an employee can sue the employer even if the employee's conduct is outside of the employer's control.
Underlying the negligent hiring and negligent retention theories is the negligence of the employer—that is, the employer knew or should have known the employee was unfit for the job, posed an unreasonable risk of harm to others, and did nothing about it. Nearly every state recognizes these theories as causes of action, or if not, has a similar legal theory.
Benefits of Background Screening
A well-designed background screening program that is fair, consistent, and compliant with applicable laws and regulations makes good business sense, as an individual's prior history is often a predictor of future performance, workplace behavior, and cultural fit. Various studies have shown that the cost of a bad hire is one to five times the salary of the job in question, considering the direct and indirect cost involved in recruiting, hiring, training, development, administration, management, and potential litigation, as well as the wasted wages and benefits. Comprehensive background screening can help identify individuals who may have a propensity for violence, theft, fraud, dishonesty, substance abuse, absenteeism, and other behavior, and at the same time, find the candidates that can make the employer more successful. Many employers are also required by government regulation, their insurance carriers, and/or their clients to conduct background checks.

Governing Laws and Regulations 
Many laws and regulations govern employment background screening reports (also referred to as consumer reports), including without limitation and to the extent applicable, the federal Fair Credit Reporting Act (the FCRA) 15 USC § 1681 et seq., as amended by the Fair and Accurate Credit Transactions Act of 2003 and by Title X of the Dodd-Frank Wall Street Reform and Consumer Protection Act; analogous state and local laws and regulations; the Gramm-Leach-Bliley Act (15 U.S.C. § 6801 et seq.); the Driver Protection Policy Act (18 U.S.C.§ 2721 et seq.); the Health Insurance Portability and Accountability Act (42 U.S.C. § 1320d); the fair information practice principles published by the United States Federal Trade Commission; the General Data Protection Regulation 2016/679 of the European Parliament and of the Council of the European Union, and the European Commission of April 27, 2016, on the protection of natural persons with regard to the processing of personal data and on the free movement of such data and applicable regulations and any applicable secondary legislation, regulations, and orders.
Employment background screening also must comply with Title VII of the Civil Rights Act of 1964, and state and local fair employment laws.
Preemption of State Laws
The FCRA regulates the scope and flow of information between users of consumer reports, furnishers of information, and CRAs. Generally, the FCRA only preempts state laws that are inconsistent with the federal law. In 1996, the FCRA was amended to specifically pre-empt state laws that deal with the content of consumer reports. Under this provision, states are prohibited from enacting laws governing the content of consumer reports after September 30, 1996. At least three states–California, Colorado and Texas–enacted their own "mini FCRA" legislation. Some legal commentators suggest that since the Texas version of the FCRA statute was passed in 1997 after the September 30, 1996 cutoff for state regulation regarding the content of consumer reports, it is pre-empted by the FCRA. This, however, remains a gray area.
Conflict of Laws
Which state law applies, if for example, a California resident applies to an Illinois company to work in a location in Mississippi? Such a situation presents what is known as a conflict of laws, and the legal issue becomes which state has the greatest interest in governing the situation. Thus far, there is no case law dealing specifically with the conflict of laws resolution in the context of the FCRA. However, the FCRA and state analog rules are similar to employment laws (i.e., anti-discrimination) and there is much case law regarding work situations. The general rule is that the law of the state where the person works will apply.
As with most laws, there are exceptions. If the Illinois company required each applicant to come to Illinois, be interviewed, have their background check done at that time, and made its hiring decision in Illinois, the law of Illinois may apply to the hiring and background check, but once employed, subsequent checks would be governed by Mississippi law. This exception would be because the actual acts of hiring and the background screening process occurred in the state of Illinois. If the individual did not pass the background check, Mississippi would never come into consideration.
Compliance Requirements
Generally, the FCRA's requirements for employers may be divided into two categories: (1) requirements that employers must follow before they procure a consumer report from a CRA, and (2) requirements that employers must follow if they intend to take "adverse action" when their decision is based in whole or in part on the information provided in a consumer report.
Certain reports prepared by a CRA that otherwise would be consumer reports are excluded from the FCRA's definition of a consumer report, including third-party reports concerning suspected misconduct relating to employment.

Employment Purpose Considerations
The most recent FTC report issued in July 2011 (the "Staff Report") provides that the term "employment purposes" is interpreted liberally to effectuate the broad remedial purpose of the FCRA. As a result, it may apply to situations where individuals are not technically employees, such as contractors or volunteers. In addition, a consumer report used in connection with security clearances of a government contractor's employees would be for "employment purposes" under the FCRA. In its other guidance, the FTC indicates that traditional employee case law does not apply—instead, in each case, the substance of the relationship and in particular whether the job being performed has traditionally been an employee function determines an independent contractor relationship. The FTC provides little or no guidance regarding partners or directors, and there is no definitive authority, although one case (Hoke v. Retail Credit Corp., 521 F. 2d 1079) suggests that partners are consumers entitled to FCRA protections.
There is no single or simple answer as to the application of the FCRA to these positions—the end-user of the report must examine the substance of the relationship and decide accordingly.  In the case of partners and directors, this analysis becomes more complex and the focus may be on whether the person is an employer or an employee. Is the advancement of an employee to a partnership position a "promotion" which makes the report a consumer report relating to employment? It appears so, as an evaluation relating to a promotion is subject to the FCRA–substantively these are the individuals that the FCRA is meant to protect, especially when there are hundreds of partners, as is the case with large accounting and law firms. But consideration for becoming a partner in an investment transaction does not fall under the FCRA's permissible purpose of employment, as such partners have control and personal liability and, therefore, are "employers" and not "employees" within the protected class. To make all this more difficult, this complexity is veiled with uncertainty resulting from the fact that the applicable legal principles are essentially unresolved.
Obligations of Employers Before Procuring a Consumer Report
Before procuring a consumer report or an investigative consumer report (an investigative consumer report is essentially a subset of a consumer report, whereby the CRA obtains information through personal interviews (e.g., an in-depth reference check)), the employer must certify to the CRA that:
it has a permissible purpose for procuring a report from the CRA;
it has provided the required disclosures to the candidate (described below);
it has obtained the requisite written authorization from the candidate;
it will not use the information contained in the report in violation of any federal or state equal opportunity law or regulation; and
it will, if any adverse action is to be taken based on the report, provide the candidate with a copy of the report and a summary of the consumer's rights under the FCRA.
The employer is not required to make this certification each time it orders a consumer report. Rather, a blanket certification to the CRA is permissible in most circumstances.

Credentialing of Employer by the CRA
A CRA is legally required to take "reasonable steps" to ensure that the employer is a legitimate business entity and will use the background information provided by the CRA in a legal manner. This typically includes performing due diligence on the employer and its key principals to ensure that the employer's representations are truthful.
If the background check will include or consist of a consumer credit report or obtaining certain employment information from a national consumer reporting agency (i.e., TransUnion, Equifax or Experian) additional credentialing is required, which in most instances includes an inspection of the employer's facilities to further substantiate that the employer is a valid business, has a true business identity, and meets privacy and security requirements in connection with receiving the reports.
Before a CRA agrees to furnish a consumer report, the CRA is required to provide to the employer a "Notice to Users of Consumer Reports" (issued by the Consumer Financial Protection Bureau) which explains the employer's obligations under the FCRA.
Disclosure and Authorization Requirements
Before procuring a consumer report, an employer must provide to the candidate a disclosure that a report may be obtained for employment purposes, and obtain their authorization. Guidance from the Staff Report, other FTC advisory literature and case law indicate that:
The disclosure must be in a clear and conspicuous, standalone document, which means that it cannot be part of a printed employment application, and may contain only minor additional items, such as the type of information that may be obtained, so long as the description does not confuse the candidate or detract from the mandated disclosure. 
The disclosure language and request for authorization may be combined in a single document; however, the FTC's formalistic reading of the FCRA is that the statute literally commands the use of  separate documents.
Additional disclosure requirements apply to employers in California, New York, Minnesota and Oklahoma, and many states and localities have yet additional notice requirements if criminal record or credit checks are being obtained. 
Most CRAs, including Scherzer, provide model disclosure and authorization forms as a curtesy for their clients to use; however, employers can use their own forms.  Providing compliant forms to the candidate is ultimately the employer's responsibility.

Electronic signatures
Electronic authorization is permitted by the text of the FCRA for DOT-regulated employers in certain specified circumstances. The FTC's general acceptance of electronic signatures reasonably would appear to extend to employment-purpose reports.

Notices of Rights
Before procuring an investigative consumer report, the FCRA requires that the employer provide to the candidate a summary of rights under the FCRA issued by the Consumer Financial Protection Bureau. It is a best practice to also provide this notice before procuring a consumer report (although the FCRA's express requirement is that it be provided when intending to take adverse action based in whole or in part on the consumer report).
Adverse Action Process
Employers must follow certain requirements if they intend to take "adverse action" against a job applicant or a current employee based in whole or in part on the contents of a consumer report before the adverse action is taken.
An adverse action includes "a denial of employment or any other decision for employment purposes that adversely affects any current or prospective employee." The FCRA also defines the term "adverse action" to broadly extend to "any action taken or determination that is made in connection with an application that was made by . . . any consumer" and that is "adverse to the interests of the consumer." It is prudent, therefore, for employers to consider how they vet candidates for promotions and lateral transfers (even ones without an increase or reduction in pay), and how, if at all, they use consumer reports to take corrective or disciplinary action against employees.
Two-notice requirement
If an employer intends to take adverse action against a candidate based in whole or in part on information contained in a consumer report, it must first provide a "pre-adverse action" notice under FCRA Section 604(b) before taking the adverse action and a subsequent "adverse action" notice under FCRA Section 615(a) after the adverse action is taken. As a result, the notices may not be included in the same document.
Pre-adverse action notice
Although employers may arrange to have the CRA provide pre-adverse action notices directly to the candidate (i.e., outsource the process), the employer retains the ultimate responsibility.
Employers must provide a "pre-adverse action" notice even if the information contained in the consumer report (such as a criminal record) would automatically disqualify the candidate from hiring (or otherwise lead to an adverse employment action) based on the employer's policies and procedures.
The "pre-adverse action" notice must include a copy of the consumer report, the FCRA summary of rights, and any applicable state and local notices.
Waiting period after giving pre-adverse action notice
Once the employer provides the pre-adverse action notice, there is no specific period of time mandated by the FCRA that an employer must wait before taking the adverse action. According to the Staff Report, employers must wait a "reasonable period of time" but this will vary depending on the particular circumstances involved. Neither the FCRA nor the FTC provides a bright-line test in this regard. One fairly accepted standard is five business days, although recent case law suggests that employers may want to wait longer.  State and local ban-the-box laws may have their own requirements.
Adverse action notice
Employers may provide to the candidate the "adverse action" notice in a way that minimizes duplication with the "pre-adverse" action notice. For example, in the "adverse action" notice, the employer could note that the candidate has already received a copy of their consumer report and the FCRA summary of rights.
The notice must include the following:
name, address and telephone number of the CRA that provided the report to the employer;
a statement that the CRA did not make the adverse decision and is not able to explain why the decision was made;
a statement setting forth the candidate's right to obtain a free disclosure of the report from the CRA, if they makes a request for the  disclosure within 60 days; and
a statement setting forth the candidate's right to dispute directly with the CRA the accuracy or completeness of any information contained in the report that the CRA provided to the employer.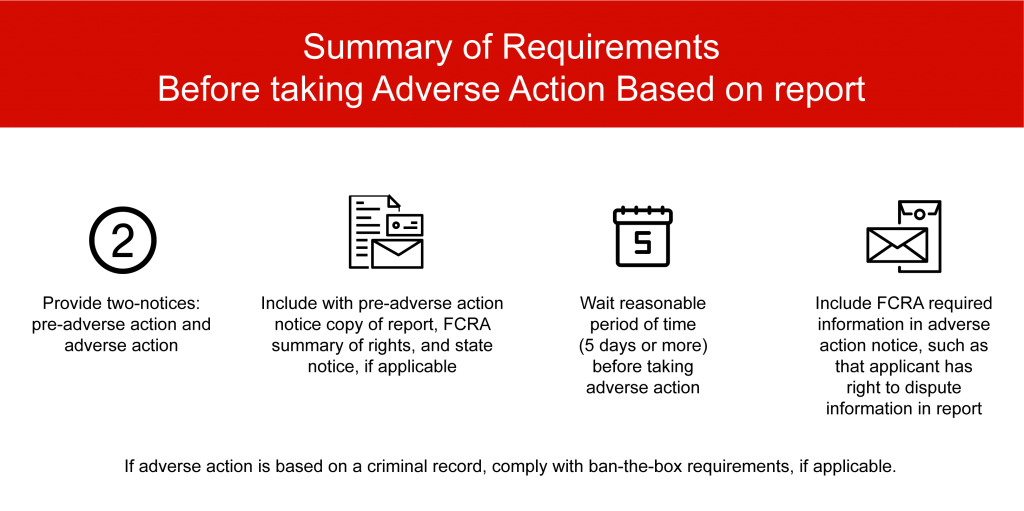 FCRA Violations and Litigation 
Failure to comply with the FCRA's complex technical requirements in connection with procuring and using consumer reports has cost employers hundreds of thousands and even millions of dollars in class action litigation and settlement payouts. Companies may be inclined to enter into a settlement agreement when facing statutory damages ranging from $100 to $1,000 per violation and class members of 20,000 or more, because there is no cap on statutory damages under the FCRA, and plaintiffs can also recover attorneys' fees and costs plus punitive damages.
Protection for Employer
Although the FCRA imposes significant compliance obligations on the employer, the law (15 U.S.C. § 1681e) provides that except as provided in sections 1681n and 1681o of this title, "no consumer may bring any action or proceeding in the nature of defamation, invasion of privacy, or negligence with respect to the reporting of information against any user of information . . . based on information disclosed pursuant to section 1681g, 1681h, or 1681m of this title, except as to false information furnished with malice or willful intent to injure such consumer."
Conclusion
Employers must be diligent in ensuring that they also comply with applicable state and local "ban the box" laws—laws that prohibit employers from asking job applicants questions about a criminal history on an application form and delaying such inquiries until later in the hiring process, typically after an offer of employment has been extended. Nine states (Connecticut, Hawaii, Illinois, Massachusetts, Minnesota, New Jersey, Oregon, Rhode Island, and Vermont-effective July 1, 2017), the District of Columbia, and 14 localities (Austin, Baltimore, Buffalo, Chicago, Columbia (MO), Los Angeles, Montgomery County (MD), New York City, Philadelphia, Portland (OR), Prince George's County (MD), Rochester, San Francisco, and Seattle)) now extend the "fair chance" policy to private employers.
Additionally, employers in certain jurisdictions must be mindful of using credit reports for personnel decisions. Currently, eleven states (California, Colorado, Connecticut, Delaware, Hawaii, Illinois, Maryland,; Nevada, Oregon, Vermont, and Washington), the District of Columbia, and at least two municipalities (New York City and Philadelphia) restrict obtaining or using an applicant's or employee's credit history for employment purposes, unless the position or responsibilities meet specific criterion.
An integral part of a sustainable background screening program is partnering with a professional CRA that understands the complex laws and regulations governing employment background checks and will work with the employer to help ensure its compliance.
Read more about: